Bystander – 138′ Escort Vessel
Bystander, the escort vessel to J Class Velsheda
Destined to be the escort vessel of J Class Velsheda, Bystander is the fruit of a close collaboration between Vripak naval architects and the English interior and exterior design firm Rhoades Young Design. Rhoades Young Design created a most classical style, inspired by 1930's work vessels. The hull is 42m and cut from steel, while the superstructure is aluminium. Bystander has a twin prop propulsion system, two diesel motors, and autonomy of over 5 400 nautical miles. Particular attention was paid to the fine details, whether exterior or interior, in order to give Bystander her classic look. In 2006 Bystander won the International Superyacht Society Award in the US for Best Superyacht in the 32 to 43m motor yacht category.
| | |
| --- | --- |
| Boat name | Bystander |
| Yard n° | 19C |
| Year of delivery | 2007 |
| Type | Escort vessel |
| Naval architect | Vripack Naval Architecs |
| Interior designer | Rhoades Young Design |
| Material | Steel hull and aluminium superstructures |
| Length Over All | 42,18 m |
| Water Line Length | 40,56 m |
| Beam | 9,15 m |
| Draft | 2,6 m half load |
| Airdraft | 19,7 m |
| Displacement | 520 tons half load |
| Owner and guest capacity | 12 pers |
| Crew capacity | 11 pers |
| Engine | 2 x 720 Hp Caterpillar |
| Genest | 2 x 155 kW + 1 x 90 kW Northern light |
| Top speed – Cruise speed | 13 kts – 11,5 kts |
| Range | 5 000 nm at 11 kts |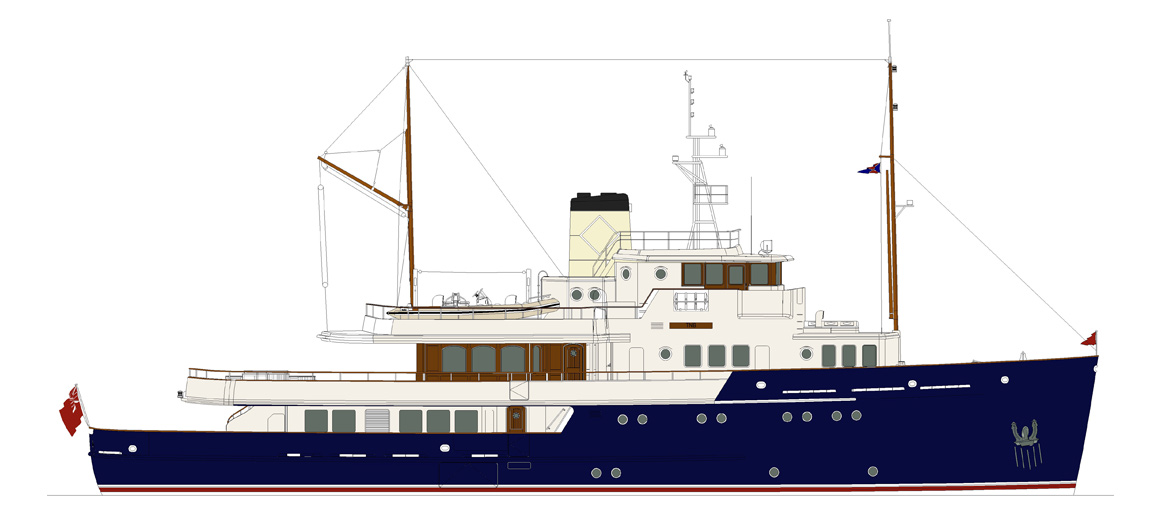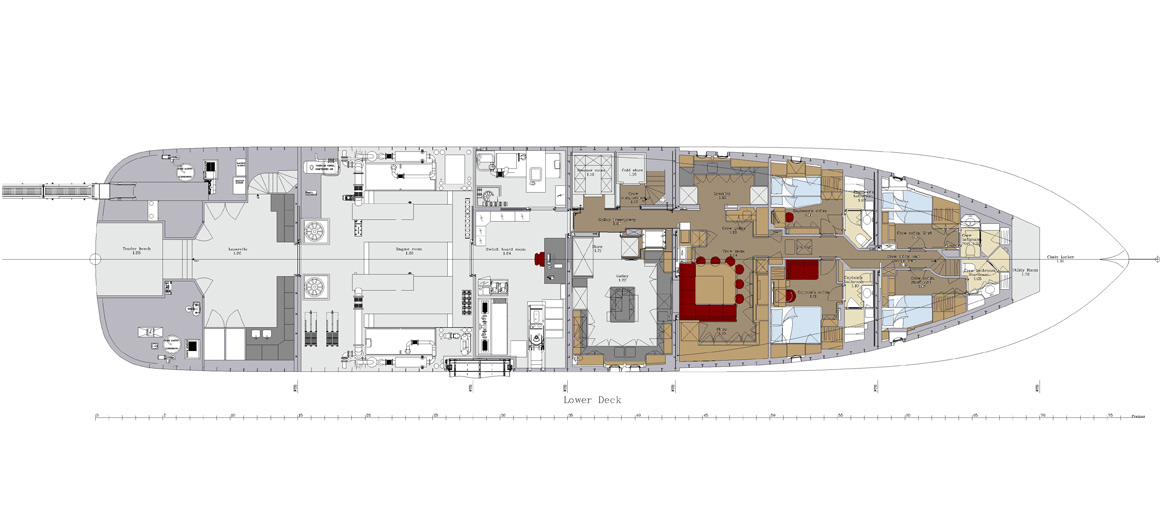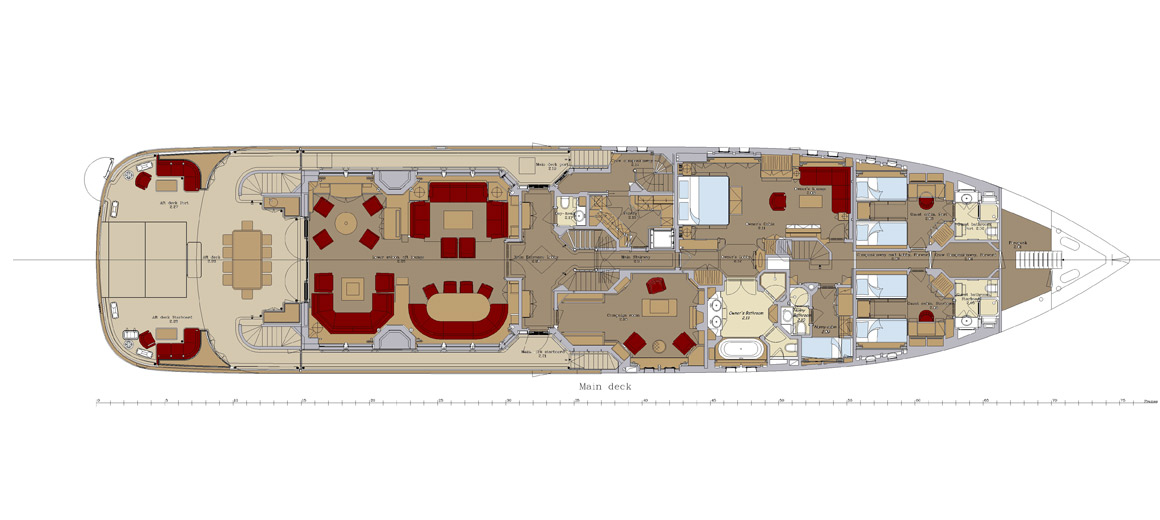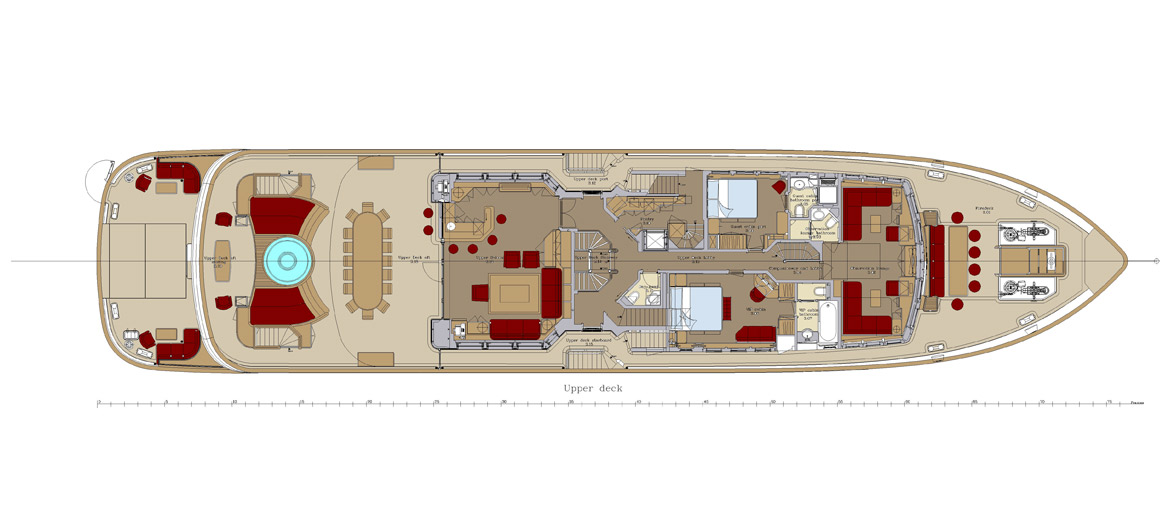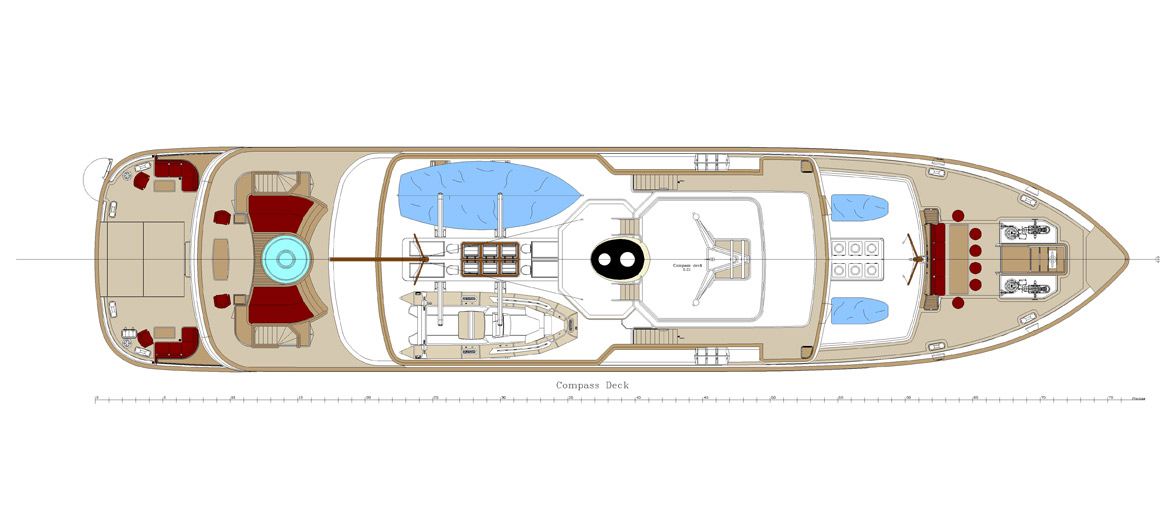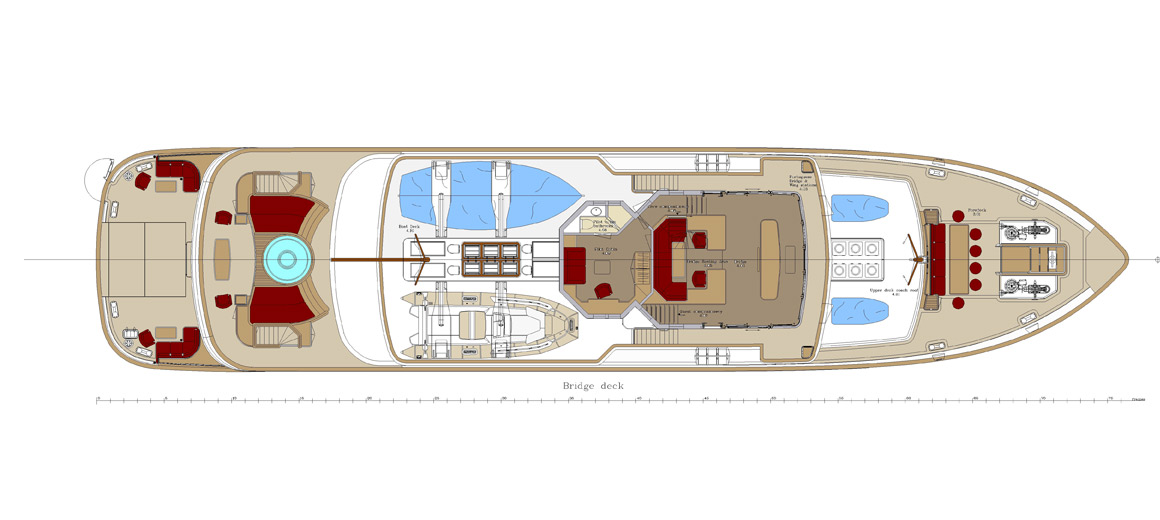 Rhoades Young Design
Interior and Exterior designer
Rhoades Young Design had work on this 42m Escort vessel in conjunction with Vripack Naval Architects and the JFA shipyard in Concarneau – France.
Her profile forward, suggests a rugged workboat with a high bow and steep stem, the concentration of the superstructure weight is forward to leave large working decks aft. The forward section of the boat is very much the rugged end, with painted superstructure and high bulwarks, further aft more yacht style detailing becomes apparent with timber framed windows and panelled bulkheads in the social areas.
The interior is based on a nineteen thirties work boat, refitted for private use.
Furniture detailing reflects the nature of the boat; it is simple, functional and generally understated. In certain areas the detail level is upgraded to lend gravity to areas of importance, whilst pieces of free-standing furniture create a less formalised appearance. Broad plank wooden floors and elements of the original boat form a background of panelled bulkheads and beamed overheads.
The layout provides relaxed, though civilised accommodation with versatility and flexibility when required. A large deck saloon, which can be opened to the aft deck creating one vast sociable area is a rare and impressive space designed with spectating and entertaining in ind. The service areas are kept separate from the guest areas to allow both parties to function without impedance.